We will use this blog to regularly post news, analyses, videos and links, training updates, resources for further learning, questions, and so on, relevant to Social Role Valorization (SRV). We encourage you to subscribe to the blog and to comment on our posts. The more comments and online discussions, the more we can help deepen our understanding of SRV on behalf of vulnerable people.
Tweet
The third and final day of plenary talks and concurrent sessions at the First International Social Role Valorization Distance Conference: SRV in the World provided a wonderful capstone to our time together learning about and discussing SRV and related ideas. Now is the time to go back and watch or re-watch any of the plenary or concurrent session videos. Stay in touch with each other, especially new connections made in the Expo rooms. Share what you learned with others who were not at the conference. And let's start looking forward to the next time!
Tweet
Another great day of plenary talks and concurrent sessions at the First International Social Role Valorization Distance Conference: SRV in the World!
Some of the resources mentioned today:
http://srvip.org/Journal_Jun_2015_full.pdf
Tweet
Keynote Address: Right Time, Right Place: Social Role Valorization in the Indian Context
Dr. Nidhi Singhal and Geeta Mondol are presenting the first plenary in the First International SRV Distance Conference.
Tweet
The first international distance SRV conference is set to start tomorrow, with two scheduled plenary talks, six concurrent sessions and various expo booths to visit.
Tweet
Tweet
We look forward to the First International Social Role Valorization Distance Conference: SRV in the World, which starts tomorrow with a preconference workshop on Social Role Valorization, and then on Wednesday with the first plenary session.
https://socialrolevalorization.com/srv-conference/
Tweet
The SRV Implementation Project is pleased to announce a new publication entitled SRV News & Reviews.

https://indd.adobe.com/view/ade820f6-0e75-4437-b9ce-d78d7e39f9dd

We are very thankful to our advisory board members for their work in starting this new effort. The purposes of this periodical include analyzing phenomena that have Social Role Valorization (SRV) relevance; as well as fostering study of and dialogue about SRV theory, training, research and implementation, and about PASSING. It will include reviews and occasional articles plus a regular column, and will be published twice a year. We encourage sharing and discussion of the content as a way of promoting further study and implementation of SRV.

SRV News & Reviews is published under the auspices of The SRV Implementation Project (SRVIP) with the sponsorship of Shriver Clinical Services. The mission of the SRVIP is to confront social devaluation in all its forms, including the deathmaking of vulnerable people; support positive action consistent with SRV; and promote the work of the formulator of SRV, Prof. Wolf Wolfensberger.†

We welcome well-reasoned submissions grounded in SRV. Language used should be clear and descriptive. The Publication Manual of the American Psychological Association is one easily available general style guide. We will not accept items simultaneously submitted elsewhere for publication or previously posted or distributed. All submissions are reviewed for suitability, relevance and clarity. Contact: journal@srvip.org

Examples of submission topics include but are not limited to: SRV as relevant to a variety of human services; descriptions and analyses of social devaluation and wounding; analyses of the impact(s) of societally valued roles; illustrations of particular SRV themes; analysis of the PASSING tool and specific ratings; research into and development of SRV theory and any of its themes; analysis of developments from an SRV perspective; success stories, as well as struggles and lessons learned, in trying to implement SRV; relevant opinion pieces; news analyses from an SRV perspective; book or movie reviews from an SRV perspective.




Tweet
We just received copies of the new Wolfensberger model coherency text from Valor Press.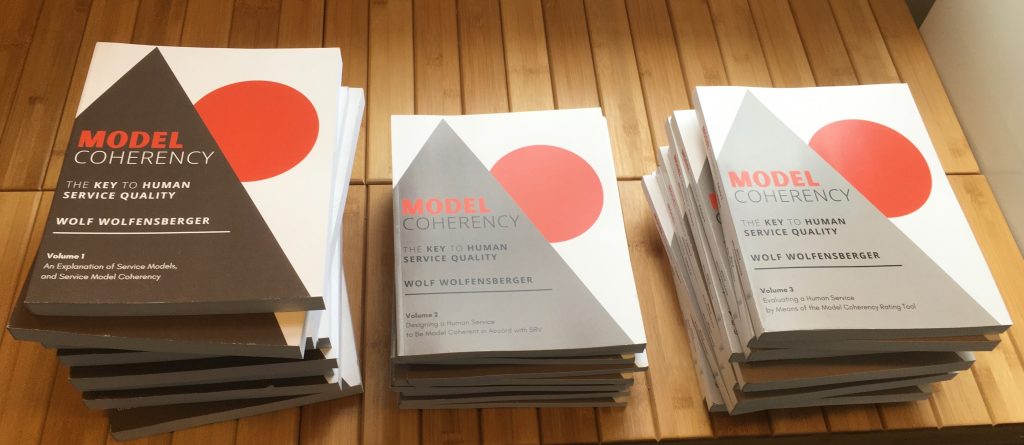 Tweet
I'm pleased to see that the 3 volume text written by Dr. Wolfensberger has been made available. https://presse.valorsolutions.ca/fr/model-coherency-the-key-to-human-service-quality-set-of-3
This work fleshes out the Social Role Valorization theme of model coherency, and provides detailed explanations of both model coherency design and model coherency assessment. This is an invaluable resource for SRV teachers and PASSING trainers, as well as for program directors and agency leadership who want to learn more about implementing the model coherency construct.
Tweet
The 18 July 2021 NY Times includes an article entitled 'The tug of war over Hart Island.' A mile long, Hart Island is in Long Island Sound and is part of the Bronx (New York, US). Hart Island is still used as the 'potter's field' for the city, with over a million New Yorkers buried on the island in common graves. Significant numbers of people who died from COVID were likely buried on the island. In the 1980s, people who died of AIDS were also likely buried on Hart Island.
At different times, Hart Island has served as a location for multiple devalued groups in various settings, including the following:
a prison camp for Confederate soldiers during the US Civil War
an isolation site during a yellow fever epidemic
a charity hospital for women
an insane asylum for women (with up to 300 women living in the asylum)
a jail for prisoners whose job was to bury the dead
a homeless shelter
a tuberculosis hospital for women
a reformatory for young men
an overflow jail
a disciplinary barracks for the US Navy
a narcotics rehabilitation program
Oddly, during the Cold War, Hart Island was used as a missile site, from the 1950s until the 1970s.
For additional stories on Hart Island, see:
https://www.npr.org/2021/07/16/1016122868/nyc-burial-mass-graves-unclaimed-harts-island-covid
https://www.nationalgeographic.com/history/article/unclaimed-coronavirus-victims-being-buried-on-hart-island-long-history-as-potters-field
http://www.correctionhistory.org/html/chronicl/nycdoc/html/hart.html
Tweet