seven day workshop following the SRV conference

The Training Institute and the Massachusetts Alliance for Personal Action are planning to host the seven day workshop entitled How to function morally, coherently and adaptively in a world that is disfunctional, including its human services from Monday to Sunday, June 15-21, 2015 at Worcester State University in Worcester, MA.
Important: note that interested people are strongly urged to register early; if there are not enough paying registrants by 1 February 2015, the workshop will be cancelled.
For more information, please check out
http://moralcoherency.com/register/
This important leadership learning opportunity follows the 2015 International SRV Conference. This scheduling will allow international travelers especially to take advantage of this opportunity, as this workshop is typically taught only every 2 years.
Let others know about the workshop. If you have been to it previously, consider telling others about this opportunity, and also consider coming again.
If possible, please consider helping other people attend this important event: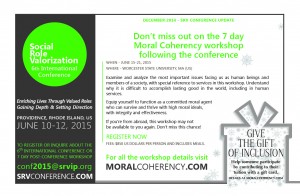 Tweet