Special Olympics and Microsoft Cloud

Check out this site and accompanying video from Microsoft Cloud about the Special Olympics. Microsoft has also placed ads on this topic in several magazines.
Based on the material in the SRV monograph and workshops on image enhancement, as one of the tools of role valorization, and the material on imagery in the PASSING tool and workshop, what is your SRV based analysis of the video and advertisement? This would be a good exercise for university classes and for SRV study groups.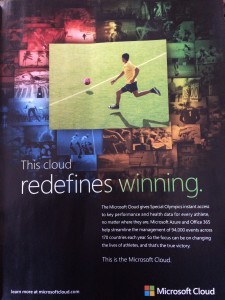 Tweet