An interesting Washington Post article (3 February 2017) to read and analyze from an Social Role Valorization perspective, including for points of heightened vulnerability, the process of social devaluation, interpersonal identification, etc.
'My guardian angel': He was homeless when they took him in. He became like family to them.
Tweet
The 26 October 2016 Wall Street Journal article 'Babies show a clear bias–to learn new things' describes contemporary research that reinforces the emphasis in Social Role Valorization (SRV) on imitation, role modeling, competency enhancement and the developmental model. "Babies leap at the chance to learn something new." This echoes the opening line of Aristotle's Metaphysics: "all human beings by nature desire to know." If we want people–no matter how impaired or societally devalued–to learn and become more competent, then it is important to believe that they can learn and hold high expectations for their ability to learn, among other things.
Another point from the article relevant to SRV has to do with interpersonal identification and imitation. The author notes that babies "can figure out who is likely to teach them." Babies are already figuring out their environment enough to know who they can learn from, and accordingly pay greater attention to those people. This ability does not stop with babies of course. SRV proposes that we can facilitate interpersonal identification with the goal of fostering imitation, competency enhancement and learning (Wolfensberger, SRV monograph, 3rd rev. ed., pp. 118-121).
Tweet
The 18-19 June 2016 Wall Street Journal article 'A small fix in mind-set to keep students in school' is relevant to the Social Role Valorization theme of mind-sets and expectancies. It describes two different studies on the power of mind-sets in schools.
From the article:
"The psychologist Carol Dweck at Stanford has argued that both teachers and students have largely unconscious 'mind-sets'–beliefs and expectations–about themselves and others and that these can lead to a cascade of self-fulfilling prophecies."
"Changing mind-sets is hard: simply telling people that they should think differently often backfires. The two new studies used clever techniques to get them to take on different mind-sets more indirectly."
"In the first study … the most important part was a section that asked the teachers to provide examples of how they themselves used discipline respectfully. The researches told the participants that those examples could be used to train others–treating the teachers as experts with something to contribute … The researchers didn't tell people to have a better attitude. They just encouraged students and teachers to articulate their own best impulses. That changed mind-sets–and changed lives."
Note the connection made between changing mind-sets and changing lives, or in SRV language, how can changing mind-sets create greater access to the 'good things of life' for societally devalued people?
How might these studies be relevant in other human service fields? Could such studies be replicated with human service workers?
Tweet
I am happy to share the following announcement from Zana Lutfiyya:
"I am pleased to announce that we have confirmed a location for the 7th International SRV Conference, to be held in Winnipeg, Manitoba, Canada from June 4-8, 2018 at the Fairmont Hotel. Monday June 4 and Tuesday June 5 will be pre-conference days and the conference itself will take place Wednesday June 6 – Friday June 8.
A program committee is being formed and we will take the opportunity to consult widely at certain points in the process. I hope to be able to announce the theme of the conference, as well as dates for paper and presentation proposal submissions and registration in August 2016.
The Fairmont Hotel is located at the heart of Winnipeg's downtown in the Exchange District, steps away from the intersection of Portage and Main. Conference attendees staying at the Fairmont will be within walking distance of the confluence of the Red and Assiniboine Rivers, popularly known as the Forks. The Forks is a National Historic Site, and the location for the Canadian Museum of Human Rights, the Manitoba Theatre for Young People, the Children's Museum, the Winnipeg Railway Museum and a farmer's market in the summer, along with restaurants and cafes. It is the hub for several walking and bicycle trails that extend west along the Assiniboine River to the Manitoba legislature, across the river into Old St. Boniface, the French quarter of the city, and north along the Red River through the Exchange District. Visitors will be within a 10 minute cab ride to Osborne Village or Corydon, areas known for their restaurants and shops.
Coming to Winnipeg, visitors will also have the chance to visit the largest collection of contemporary Inuit sculpture and art in the world at the Winnipeg Art Gallery, Canada's oldest civic art gallery, or spend time at the Journey to Churchill, located at the Winnipeg Zoo in Assiniboine Park. The Journey to Churchill includes exhibits on northern Manitoba and the Leatherdale International Polar Bear Conservancy Centre (where several bears live!). For people willing to travel about 30 minutes to the south west edge of the city, they can visit Fort Whyte, another conservancy area with walking trails, an interpretive centre and a herd of 30 bison. Of course, people are welcome to come and simply take part in the conference as well!
So please hold the date and plan on attending the 7th International SRV Conference in Winnipeg, Manitoba, Canada."
Tweet
This podcast would make for an interesting exercise for a classroom, SRV study group or workshop. It is from a regular podcast series entitled 'Modern Love' sponsored by the NY Times and a Boston public radio station. The podcast is # 18, ' A Heart Outrun.'
This podcast includes the recitation of a written essay followed by several interviews. I recommend listening to the essay written by Gary Presley, read by a professional actor (that in itself is something to consider from an SRV perspective), but also to the interviews with Gary and his wife Belinda.
As an SRV exercise, I think that this would require thinking about the essay and interviews from the perspective of various SRV concepts and themes. In light of the complexity of human relationship, and the empirical nature of SRV, any analysis would also raise issues outside of SRV.
Podcast link:
http://www.wbur.org/series/modernlove
The essay:
http://www.nytimes.com/2009/11/29/fashion/29Love.html
A related website:
http://www.wbur.org/2016/05/11/a-heart-outrun-modern-love
Some SRV issues to consider include:
• relationship domain (Wolfensberger, A brief introduction to SRV, 3rd revised edition, p. 30)
• mindsets and expectancies
• language and titles used to refer to the couple
• heightened vulnerability
Tweet
The Massachusetts Alliance for Personal Action & The SRV Implementation Project
are pleased to announce a two-day workshop entitled
The History of Human Services
Tracing the Origins of Some of Our Major Contemporary Service Patterns, & Some Universal Lessons for Service That Can Be Learned from This History
Dates & Times: Wednesday, June 22 to Thursday, June 23, 2016; 9 am to 4:30 pm each day
Place: University of Massachusetts Auditorium, 333 South Street, Shrewsbury, Massachusetts 01545
Description of the presentation: History is known to be one of the best teachers, and yet there is very little teaching of the history of human services. This presentation addresses that gap. Several hundred slides document the evolution of major human service concepts and practices from ancient, informal, voluntary, unpaid personal helping forms to the largely commercialized patterns that we see today.  
There are two parts to the presentation, and each takes up a full day. In both parts, paintings, and illustrations of the architecture of human service settings, are used to show the service patterns and assumptions in a given historical period. The presentation as a whole demonstrates how the following current human service ideas evolved:
• that bigger services are better services
• that afflicted people are a menace to society
• that segregated services are preferable to integrated ones
• that service recipients should be thankful for what they receive from service workers
The presentation compellingly shows that human services are full of practices that are now carried on unconsciously, but are actually vestiges or distortions of practices that were originally instituted with high consciousness and very good and strong rationales.
The first part of the presentation takes all of the first day. It sketches important antecedents of current human service patterns, from pre-history and the pre-Christian era, and shows that the history of human services of all types is inextricably intertwined with the history of care for the poor, and of residential services. This part shows how the nurses' station evolved, and how specialized institutions–such as tuberculosis sanitoria, prisons, and "mental hospitals"–grew out of the multi‑purpose institutions and workhouses for all kinds of afflicted and poor people of the 1600‑1700s, which in turn grew out of small, early Christian hospices. This first part traces the evolution of human services into the late Medieval period, and shows the impact of the collapse of medieval services preceding and during the Protestant Reformation. The negative effects on services of political and economic changes during the period of absolutism in the 16‑17th centuries is also explained. The first part concludes by showing how certain service designs and practices are now the opposite of how they started out. 
The second part of the presentation takes all of the second day. It elaborates on one particular theme that was raised in the first part, namely the interpretation of service recipients as menaces, and the structuring of services on that assumption. It shows how this "menacizing" eventually displaced the remnants of earlier, more benign perceptions and interpretations of recipients, and how it has come down to services of the present.      
There is a break for lunch and short breaks in mid‑morning and mid‑afternoon of each day. At several points during each day, and at each day's end, there will be time for questions and discussion. 
Format of the presentation: The presentation is conducted in lecture style, and is very visual. Both pictures and text projetions are shown, using current and older technologies. As noted above, lectures are interspersed with periods for discussion.
Who should attend: The presentation is relevant to everyone involved in any way in any kind of human service to any societally devalued group in any service field, from those on the direct clinical level to those at the highest planning levels, whether they are professionals or non‑professionals, advocates, volunteers, administrators, legislators, theorists, analysts, architects and designers. Anyone who attends the presentation can gain a better understanding of current service challenges, some of the dangers that lurk everywhere, and what sorts of service patterns to strive for.  
Many people who have attended this presentation in the past have remarked that it fundamentally altered their perception of many human service patterns, and that it helped them to understand, often for the first time, some of the things they had witnessed or were part of, or had contributed to. People who have been through PASS and PASSING training will also find that parts of the presentation speak to the concept of culturally valued analogues, and of "model coherency" of human services.
Tuition: $180.00, which includes refreshments and lunch. Agencies that send 5 or more people get a 20% discount. We will not turn people away for lack of funds; if you require tuition assistance, please email register@srvip.org.
Registration & payment: Payment can be made via check or credit card.
• Register online at https://srvip.wufoo.com/forms/history-workshop-registration-june-2016/
• Or send your name, address, phone number & email address, plus tuition check made out to Shriver Clinical Services (federal id # 04 317 5325), to: Workshop registrar; 74 Elm Street; Worcester, MA 01609. Email register@srvip.org. 
Upon registration, registrants will receive further information, including about accommodations.
Tweet
Check out this site and accompanying video from Microsoft Cloud about the Special Olympics. Microsoft has also placed ads on this topic in several magazines.
Based on the material in the SRV monograph and workshops on image enhancement, as one of the tools of role valorization, and the material on imagery in the PASSING tool and workshop, what is your SRV based analysis of the video and advertisement? This would be a good exercise for university classes and for SRV study groups.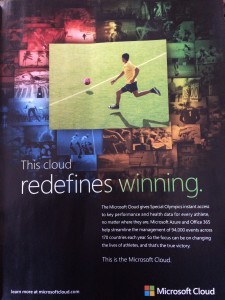 Tweet
This NY Times article describes InGalera, a restaurant located "inside the Bollate penitentiary, a medium-security prison with 1,100 inmates on the outskirts of Milan. The waiters, dishwashers and cooks have been convicted of homicide, armed robbery, drug trafficking and other crimes."
According to the article, " 'The main problem has been that they do little during the day, which doesn't help them at the present, nor for their future outside prisons,' said Alessio Scandurra, who works for Antigone, a nonprofit group focused on the rights of detainees.
This is an interesting article to examine from a Social Role Valorization perspective, including such elements as:
• valued social roles
• access to the 'good things of life'
• image enhancement and competency enhancement as avenues toward valued social roles
• theme of interpersonal identification
• theme of personal social integration, and valued social and societal participation
• theme of model coherency
• In the PASSING manual, Dr. Wolfensberger and Susan Thomas write that one of the few human service practices that does not have a culturally valued analog (CVA) is a prison (p. 31).
Marc Tumeinski
Tweet
The Syracuse University Training Institute is pleased to announce the presentation of the five day workshop
Crafting a Coherent Moral Stance on the Sanctity of All Human Life, Especially in Light of Contemporary Society's Legitimization & Practice of All Sorts of 'Deathmaking' of Unwanted & Devalued People
This workshop is being sponsored by the above Training Institute. The speakers are a group of people who have been studying the topic & presentation materials over a period of years, under the instruction & direction, & with the collaboration, of the late professor Wolf Wolfensberger, past director of the above Training Institute. 
Dates & times:  Monday, October 17, through Friday, October 21, 2016;
Each day begins promptly at 8:00 am, the last day ends at approximately 4:30 pm.
There are evening sessions on the first four days which are not optional.
Site: Christ the King Retreat & Conference Center, 500 Brookford Road, Syracuse, New York 13224 USA; phone 315/446-2680. Details & directions will be provided with confirmation of registration.
Interested people are strongly urged to register as soon as possible;
if there are not enough paying registrants by 1 August 2016, the workshop will be cancelled.
Who the workshop is for:
This event is intended for two kinds of people: (a) those who perceive that death 'is in the air,' so to speak, in the sense that there is a gathering momentum that works towards the 'deathmaking' of several classes of people, including those with impairments, the debilitated sick & lowly people without defenders; & (b) those who are uncomfortable with a pick-&-choose approach that endorses some deathmakings & objects to others, & who would like to work toward a more coherent position on the sanctity of human life. It is especially relevant for any such persons who are on the side of societally devalued people, e.g., as family members, advocates or service workers.
Content of the workshop:
The content of this workshop attempts to accomplish four aims:
a. To explain the growing support in contemporary society for various forms of 'deathmaking' of people who are impaired, debilitated, poor, elderly, unwanted, etc., & that such deathmaking has already begun on such a large scale that the term genocide is warranted to describe it. The word 'deathmaking' refers both to any practices which kill people outright, as well as to those that greatly hasten death, that are inimical to health & life, or that lead other people to act against a person or group so as to increase their risk of death or even to inflict death on that person or group.
b. To orient participants to the deceptive disguises & interpretations ('detoxifications') that are given to deathmaking, so as to make it less obvious & less repugnant.
c. To spell out the values & dynamics deeply embedded in society that are leading to these developments.
d. To help participants to see the validity of a coherent moral stance in defense of all human life & what such a stance would entail, & to work towards such a stance for themselves.
This event stresses that it is imperative for people who understand the dynamics of contemporary deathmaking to take strong moral stands to protect & defend the lives of endangered people, most of whom are members of societally devalued classes. This event also emphasizes that each individual must make a personal moral decision, & craft a personal moral stance on the issues, regardless whether anyone else does so & regardless whether any group, organization, or society will adopt it. More specifically, the following topics will be covered:
1. The universal dynamics in any episode of deathmaking, including that some deathmaking can be very indirect.
2. The universal dynamics in human beings & in societies which predispose first towards social devaluation, & subsequently towards deathmaking of a devalued party.
3. How the killing of impaired people in Germany during the Nazi era came about, as one example of how a large-scale killing of devalued people can be planned & carried out, & can be 'detoxified.' This historic episode has much to teach us about the current situation in our own society.
4. Value trends & developments in contemporary society which press for both direct & indirect deathmaking of devalued people. This analysis tends to be very wrenching for participants because practically everyone in modern society is implicated in at least some of these values & lifestyles to at least some degree, & therefore in the deathmaking that these entail.
5. Evidence that many sectors of society support & endorse various forms of both direct & indirect deathmaking.
6. The major forms of contemporary deathmaking that are directed against devalued groups, including (but not limited to): systematic marginalization of devalued parties; widespread attachment to devalued people of images of subhumanity, garbage, menace, sickness & death, which elicits rejection & even violence from others towards them; the abuse & life-endangering conditions to which devalued people are subjected (including massive mind-drugging), even within settings that are supposed to serve them, & even within their families; abortion; infanticide; the increasingly common denial of elementary (not even extraordinary) life supports to the sick, such as nourishment & liquids; the promotion of suicide; the destruction of life-upholding forms of community.
7. The kinds of settings in which devalued people are most at risk.
8. The number of devalued people who are being made dead.
9. The many ways in which deathmaking is concealed, covered up, denied, disguised & otherwise 'detoxified,' so that people are less able to recognize deathmaking for what it is or to combat it, & are even more likely to join & support it.
10. Likely consequences to individuals & societies that engage in deathmaking.
11. What gives validity & 'coherency' to a position, & the presentation of one coherent position that rejects all intentional deathmaking of humans. Especially, the workshop proposes that life & life-giving are connected in a form of unity, & that death & all forms of deathmaking are similarly connected, & that therefore what is called for are strong & coherent positions against all intentional deathmaking in order to seriously combat it. 
12. Strategies that any person (especially family members & concerned human service workers) can adopt in order to combat deathmaking. 
13. Issues in serving people said to be 'dying,' including (a) an analysis of under what conditions life supports may or may not be refused, withheld, or withdrawn, & (b) the concept of 'hospice' services for those said to be near death.
The workshop content is usually very challenging for most participants, even those who come already  alarmed by & opposed to at least some deathmakings. 
Format of the workshop: The event is conducted as a series of lecture presentations of various lengths, with extensive use of overhead transparencies & slides to illustrate the presentations. Each presentation consists of a carefully designed body of ideas, historical material &/or analysis. Discussion takes place
after the presentation of a specific topic. Each presentation builds on earlier ones, making the entire event extremely sequential & tightly woven, so that a person cannot miss any presentation without suffering a great loss in continuity & understanding.
The material builds towards the presentation of a coherent stance on the sanctity of all human life, & in opposition to all intentional deathmaking of humans, in the last part of the event. It is only then that action implications–that is, what a person might or should do–are presented. Some participants in the past have not understood this, & therefore have demanded answers as to 'what to do' early, &/or made travel arrangements so as to arrive late & miss crucial introductory material or so as to leave before the end of the event. Participants should plan to attend the event in its entirety.
Contact for more information: 1 (315) 443-5257
The Massachusetts Alliance for Personal Action is pleased to announce a four-day workshop on
A Revised Conceptualization of Social Role Valorization, Including 10 Related Themes: A High-Order Concept for Addressing the Plight of Socially Devalued People, & For Structuring Human Services (Part I)
from Monday October 3 through Thursday October 6, 2016 (8:30 am to 5:30 pm)
at Nemasket Group, 56 Bridge Street, Fairhaven, MA
Taught by Jo Massarelli & Associates of The SRV Implementation Project
Description of the workshop:
This is part one of a two-part course. (For more on part two, visit http://www.srvip.org/ or email info@srvip.org). This workshop provides an introduction to Social Role Valorization (SRV), using the ten core themes, developed by Dr. W. Wolfensberger, considered one of the most influential thinkers in the field of human services worldwide. Wolfensberger's work helped lay the foundation for many current human service trends, including integration, safeguarding of rights, & the deinstitutionalization movement.
SRV is a systematic & universally applicable concept for structuring human services, anchored in the empiricism of psychology, sociology, & broad human experience. SRV posits a close relationship between the socially perceived value of the roles that people hold, & whether people in those roles will be accorded opportunities & other good things of life. Bad things tend to get done to people who are seen in devalued roles, & good things tend to be afforded to people in positively valued roles.
Topics to be explored include: the universality of social devaluation; the defining power of roles in people's lives; strategies for pursuing socially valued roles, or at least less devalued roles, for devalued people, with an aim toward improving their life conditions; enhancement of people's social images; & enhancement of people's competencies. The workshop offers a critical SRV-based look at many contemporary human service practices.
Format of the workshop:
The workshop is specifically oriented to leadership development. The language used, as well as the physical & intellectual demands of the workshop, are structured accordingly. It is taught in lecture format, with use of overheads & slides. Time is built into the schedule for audience discussion & questions. The schedule is 8:30 to 5:30 each day, with coffee & check-in beginning at 8:00 am each day.
Who the workshop is intended for: 
Service recipients, members of their family (including parents, sisters & brothers, & adult children), advocates, citizens, & paid or unpaid service workers, planners & managers who are interested in the lives of people who are disenfranchised from society because of intellectual or physical impairment, mental disorder, poverty, homelessness, autism, age (elders), or learning impairment (children & adults). The workshop is taught at a college-level, with long hours & hard work. The information presented is complex in its entirety, requiring a systematic exposition of multiple ideas.
Tuition:
The tuition is $500 which includes handouts & lunches. 
For employees of the Southeast Region of DDS:
tuition is waived

a fee of $100 will be charged for handouts, coffee breaks & lunches
Lunch:
Lunch will be provided on-site.
Registration and payment:
Payment can be made via check or credit card. For DDS only, payment can also be made via electronic transfer. Please contact the registrar register@srvip.org for more information.
• Send your name, address, phone number & email address, plus tuition check made out to Shriver Clinical Services (federal id # 04 317 5325), to: Workshop registrar; 74 Elm Street; Worcester, MA 01609. Email register@srvip.org. 
Tweet