The January 2017 issue of The SRV Journal is currently at the printers and will be mailed/emailed when completed. In the meantime, this is a list of the articles, reviews and columns:
The Importance of the Citizen Advocacy Scheme in Facilitating Valued Roles for, & the Valuation of, Vulnerable People by Mitchel Peters
A Testament to Courage & Resilience by Deb Espiner & Fran Hartnett
The Importance (& the Benefits) of Being Personally Connected & Engaged with Devalued People, & Its Relevance to Social Role Valorization by Susan Thomas
Learning, Applying & Disseminating Social Role Valorization (SRV): What Family Members & Human Service Workers Have to Say by Judith Sandys & Peg Jenner
SRVx10 Study Groups: Their Development & Results–So Far by John Armstrong
Reviews by Joel Boyce & Christie Mallon
Column by Joe Osburn
Tweet
The mission of Jesuit Worldwide Learning is to "provides tertiary learning to people and communities at the very edges of our societies – be it through poverty, location, lack of opportunity, conflict or forced displacement – so that they can contribute their knowledge and voices to the global community of learners and together we will foster hope to create a more peaceful and humane world."
This is an interesting project to consider from a Social Role Valorization and PASSING perspective. Who (factually and existentially) are the groups of vulnerable people that this project is focused upon? What are the processes of social devaluation and wounding described in the TEx Talk video? What needs are identified and discussed?
Analyze the project mission and goals in terms of:
• access to the 'good things of life' (including 'opportunities and expectancies that enable one to discover and develop one's abilities, skills, gifts and talents')
• the developmental model
• the role of student
• the culturally valued analogue (of higher education)
• interpersonal identification
Tweet
An interesting Washington Post article (3 February 2017) to read and analyze from an Social Role Valorization perspective, including for points of heightened vulnerability, the process of social devaluation, interpersonal identification, etc.
'My guardian angel': He was homeless when they took him in. He became like family to them.
Tweet
The 26 October 2016 Wall Street Journal article 'Babies show a clear bias–to learn new things' describes contemporary research that reinforces the emphasis in Social Role Valorization (SRV) on imitation, role modeling, competency enhancement and the developmental model. "Babies leap at the chance to learn something new." This echoes the opening line of Aristotle's Metaphysics: "all human beings by nature desire to know." If we want people–no matter how impaired or societally devalued–to learn and become more competent, then it is important to believe that they can learn and hold high expectations for their ability to learn, among other things.
Another point from the article relevant to SRV has to do with interpersonal identification and imitation. The author notes that babies "can figure out who is likely to teach them." Babies are already figuring out their environment enough to know who they can learn from, and accordingly pay greater attention to those people. This ability does not stop with babies of course. SRV proposes that we can facilitate interpersonal identification with the goal of fostering imitation, competency enhancement and learning (Wolfensberger, SRV monograph, 3rd rev. ed., pp. 118-121).
Tweet
The 18-19 June 2016 Wall Street Journal article 'A small fix in mind-set to keep students in school' is relevant to the Social Role Valorization theme of mind-sets and expectancies. It describes two different studies on the power of mind-sets in schools.
From the article:
"The psychologist Carol Dweck at Stanford has argued that both teachers and students have largely unconscious 'mind-sets'–beliefs and expectations–about themselves and others and that these can lead to a cascade of self-fulfilling prophecies."
"Changing mind-sets is hard: simply telling people that they should think differently often backfires. The two new studies used clever techniques to get them to take on different mind-sets more indirectly."
"In the first study … the most important part was a section that asked the teachers to provide examples of how they themselves used discipline respectfully. The researches told the participants that those examples could be used to train others–treating the teachers as experts with something to contribute … The researchers didn't tell people to have a better attitude. They just encouraged students and teachers to articulate their own best impulses. That changed mind-sets–and changed lives."
Note the connection made between changing mind-sets and changing lives, or in SRV language, how can changing mind-sets create greater access to the 'good things of life' for societally devalued people?
How might these studies be relevant in other human service fields? Could such studies be replicated with human service workers?
Tweet
I am happy to share the following announcement from Zana Lutfiyya:
"I am pleased to announce that we have confirmed a location for the 7th International SRV Conference, to be held in Winnipeg, Manitoba, Canada from June 4-8, 2018 at the Fairmont Hotel. Monday June 4 and Tuesday June 5 will be pre-conference days and the conference itself will take place Wednesday June 6 – Friday June 8.
A program committee is being formed and we will take the opportunity to consult widely at certain points in the process. I hope to be able to announce the theme of the conference, as well as dates for paper and presentation proposal submissions and registration in August 2016.
The Fairmont Hotel is located at the heart of Winnipeg's downtown in the Exchange District, steps away from the intersection of Portage and Main. Conference attendees staying at the Fairmont will be within walking distance of the confluence of the Red and Assiniboine Rivers, popularly known as the Forks. The Forks is a National Historic Site, and the location for the Canadian Museum of Human Rights, the Manitoba Theatre for Young People, the Children's Museum, the Winnipeg Railway Museum and a farmer's market in the summer, along with restaurants and cafes. It is the hub for several walking and bicycle trails that extend west along the Assiniboine River to the Manitoba legislature, across the river into Old St. Boniface, the French quarter of the city, and north along the Red River through the Exchange District. Visitors will be within a 10 minute cab ride to Osborne Village or Corydon, areas known for their restaurants and shops.
Coming to Winnipeg, visitors will also have the chance to visit the largest collection of contemporary Inuit sculpture and art in the world at the Winnipeg Art Gallery, Canada's oldest civic art gallery, or spend time at the Journey to Churchill, located at the Winnipeg Zoo in Assiniboine Park. The Journey to Churchill includes exhibits on northern Manitoba and the Leatherdale International Polar Bear Conservancy Centre (where several bears live!). For people willing to travel about 30 minutes to the south west edge of the city, they can visit Fort Whyte, another conservancy area with walking trails, an interpretive centre and a herd of 30 bison. Of course, people are welcome to come and simply take part in the conference as well!
So please hold the date and plan on attending the 7th International SRV Conference in Winnipeg, Manitoba, Canada."
Tweet
This podcast would make for an interesting exercise for a classroom, SRV study group or workshop. It is from a regular podcast series entitled 'Modern Love' sponsored by the NY Times and a Boston public radio station. The podcast is # 18, ' A Heart Outrun.'
This podcast includes the recitation of a written essay followed by several interviews. I recommend listening to the essay written by Gary Presley, read by a professional actor (that in itself is something to consider from an SRV perspective), but also to the interviews with Gary and his wife Belinda.
As an SRV exercise, I think that this would require thinking about the essay and interviews from the perspective of various SRV concepts and themes. In light of the complexity of human relationship, and the empirical nature of SRV, any analysis would also raise issues outside of SRV.
Podcast link:
http://www.wbur.org/series/modernlove
The essay:
http://www.nytimes.com/2009/11/29/fashion/29Love.html
A related website:
http://www.wbur.org/2016/05/11/a-heart-outrun-modern-love
Some SRV issues to consider include:
• relationship domain (Wolfensberger, A brief introduction to SRV, 3rd revised edition, p. 30)
• mindsets and expectancies
• language and titles used to refer to the couple
• heightened vulnerability
Tweet
The Massachusetts Alliance for Personal Action & The SRV Implementation Project
are pleased to announce a two-day workshop entitled
The History of Human Services
Tracing the Origins of Some of Our Major Contemporary Service Patterns, & Some Universal Lessons for Service That Can Be Learned from This History
Dates & Times: Wednesday, June 22 to Thursday, June 23, 2016; 9 am to 4:30 pm each day
Place: University of Massachusetts Auditorium, 333 South Street, Shrewsbury, Massachusetts 01545
Description of the presentation: History is known to be one of the best teachers, and yet there is very little teaching of the history of human services. This presentation addresses that gap. Several hundred slides document the evolution of major human service concepts and practices from ancient, informal, voluntary, unpaid personal helping forms to the largely commercialized patterns that we see today.  
There are two parts to the presentation, and each takes up a full day. In both parts, paintings, and illustrations of the architecture of human service settings, are used to show the service patterns and assumptions in a given historical period. The presentation as a whole demonstrates how the following current human service ideas evolved:
• that bigger services are better services
• that afflicted people are a menace to society
• that segregated services are preferable to integrated ones
• that service recipients should be thankful for what they receive from service workers
The presentation compellingly shows that human services are full of practices that are now carried on unconsciously, but are actually vestiges or distortions of practices that were originally instituted with high consciousness and very good and strong rationales.
The first part of the presentation takes all of the first day. It sketches important antecedents of current human service patterns, from pre-history and the pre-Christian era, and shows that the history of human services of all types is inextricably intertwined with the history of care for the poor, and of residential services. This part shows how the nurses' station evolved, and how specialized institutions–such as tuberculosis sanitoria, prisons, and "mental hospitals"–grew out of the multi‑purpose institutions and workhouses for all kinds of afflicted and poor people of the 1600‑1700s, which in turn grew out of small, early Christian hospices. This first part traces the evolution of human services into the late Medieval period, and shows the impact of the collapse of medieval services preceding and during the Protestant Reformation. The negative effects on services of political and economic changes during the period of absolutism in the 16‑17th centuries is also explained. The first part concludes by showing how certain service designs and practices are now the opposite of how they started out. 
The second part of the presentation takes all of the second day. It elaborates on one particular theme that was raised in the first part, namely the interpretation of service recipients as menaces, and the structuring of services on that assumption. It shows how this "menacizing" eventually displaced the remnants of earlier, more benign perceptions and interpretations of recipients, and how it has come down to services of the present.      
There is a break for lunch and short breaks in mid‑morning and mid‑afternoon of each day. At several points during each day, and at each day's end, there will be time for questions and discussion. 
Format of the presentation: The presentation is conducted in lecture style, and is very visual. Both pictures and text projetions are shown, using current and older technologies. As noted above, lectures are interspersed with periods for discussion.
Who should attend: The presentation is relevant to everyone involved in any way in any kind of human service to any societally devalued group in any service field, from those on the direct clinical level to those at the highest planning levels, whether they are professionals or non‑professionals, advocates, volunteers, administrators, legislators, theorists, analysts, architects and designers. Anyone who attends the presentation can gain a better understanding of current service challenges, some of the dangers that lurk everywhere, and what sorts of service patterns to strive for.  
Many people who have attended this presentation in the past have remarked that it fundamentally altered their perception of many human service patterns, and that it helped them to understand, often for the first time, some of the things they had witnessed or were part of, or had contributed to. People who have been through PASS and PASSING training will also find that parts of the presentation speak to the concept of culturally valued analogues, and of "model coherency" of human services.
Tuition: $180.00, which includes refreshments and lunch. Agencies that send 5 or more people get a 20% discount. We will not turn people away for lack of funds; if you require tuition assistance, please email register@srvip.org.
Registration & payment: Payment can be made via check or credit card.
• Register online at https://srvip.wufoo.com/forms/history-workshop-registration-june-2016/
• Or send your name, address, phone number & email address, plus tuition check made out to Shriver Clinical Services (federal id # 04 317 5325), to: Workshop registrar; 74 Elm Street; Worcester, MA 01609. Email register@srvip.org. 
Upon registration, registrants will receive further information, including about accommodations.
Tweet
Check out this site and accompanying video from Microsoft Cloud about the Special Olympics. Microsoft has also placed ads on this topic in several magazines.
Based on the material in the SRV monograph and workshops on image enhancement, as one of the tools of role valorization, and the material on imagery in the PASSING tool and workshop, what is your SRV based analysis of the video and advertisement? This would be a good exercise for university classes and for SRV study groups.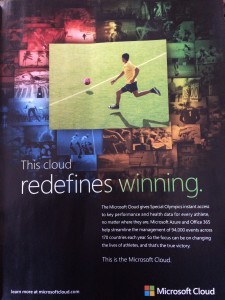 Tweet
This NY Times article describes InGalera, a restaurant located "inside the Bollate penitentiary, a medium-security prison with 1,100 inmates on the outskirts of Milan. The waiters, dishwashers and cooks have been convicted of homicide, armed robbery, drug trafficking and other crimes."
According to the article, " 'The main problem has been that they do little during the day, which doesn't help them at the present, nor for their future outside prisons,' said Alessio Scandurra, who works for Antigone, a nonprofit group focused on the rights of detainees.
This is an interesting article to examine from a Social Role Valorization perspective, including such elements as:
• valued social roles
• access to the 'good things of life'
• image enhancement and competency enhancement as avenues toward valued social roles
• theme of interpersonal identification
• theme of personal social integration, and valued social and societal participation
• theme of model coherency
• In the PASSING manual, Dr. Wolfensberger and Susan Thomas write that one of the few human service practices that does not have a culturally valued analog (CVA) is a prison (p. 31).
Marc Tumeinski
Tweet