We will use this blog to regularly post news, analyses, videos and links, training updates, resources for further learning, questions, and so on, relevant to Social Role Valorization (SRV). We encourage you to subscribe to the blog and to comment on our posts. The more comments and online discussions, the more we can help deepen our understanding of SRV on behalf of vulnerable people.
Tweet
We just received copies of the new Wolfensberger model coherency text from Valor Press.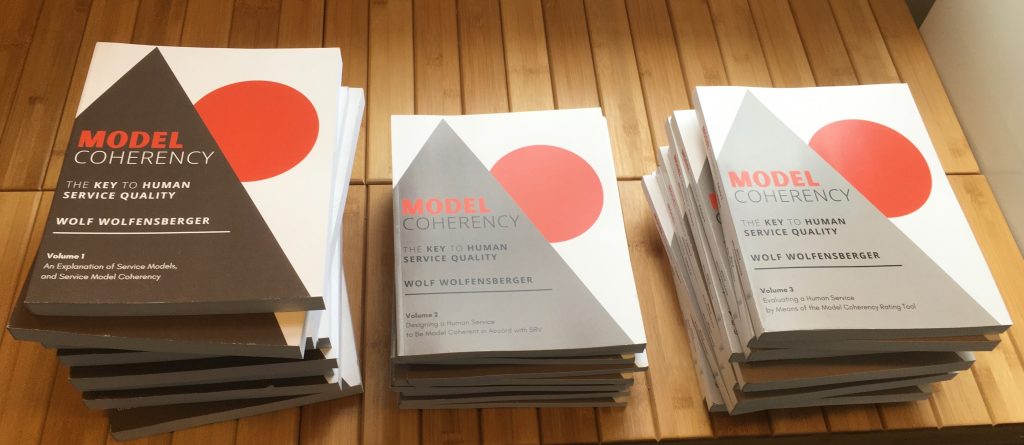 Tweet
I'm pleased to see that the 3 volume text written by Dr. Wolfensberger has been made available. https://presse.valorsolutions.ca/fr/model-coherency-the-key-to-human-service-quality-set-of-3
This work fleshes out the Social Role Valorization theme of model coherency, and provides detailed explanations of both model coherency design and model coherency assessment. This is an invaluable resource for SRV teachers and PASSING trainers, as well as for program directors and agency leadership who want to learn more about implementing the model coherency construct.
Tweet
The 18 July 2021 NY Times includes an article entitled 'The tug of war over Hart Island.' A mile long, Hart Island is in Long Island Sound and is part of the Bronx (New York, US). Hart Island is still used as the 'potter's field' for the city, with over a million New Yorkers buried on the island in common graves. Significant numbers of people who died from COVID were likely buried on the island. In the 1980s, people who died of AIDS were also likely buried on Hart Island.
At different times, Hart Island has served as a location for multiple devalued groups in various settings, including the following:
a prison camp for Confederate soldiers during the US Civil War
an isolation site during a yellow fever epidemic
a charity hospital for women
an insane asylum for women (with up to 300 women living in the asylum)
a jail for prisoners whose job was to bury the dead
a homeless shelter
a tuberculosis hospital for women
a reformatory for young men
an overflow jail
a disciplinary barracks for the US Navy
a narcotics rehabilitation program
Oddly, during the Cold War, Hart Island was used as a missile site, from the 1950s until the 1970s.
For additional stories on Hart Island, see:
https://www.npr.org/2021/07/16/1016122868/nyc-burial-mass-graves-unclaimed-harts-island-covid
https://www.nationalgeographic.com/history/article/unclaimed-coronavirus-victims-being-buried-on-hart-island-long-history-as-potters-field
http://www.correctionhistory.org/html/chronicl/nycdoc/html/hart.html
Tweet
Easy Street is the name of a simulated environment with a purported goal of rehabilitation, and is used in a number of programs, such as hospitals, rehabilitation centers and other medical settings. Easy Street environments are often quite expensive to install.
The following videos include 'tours' of Easy Street simulated environments:
The videos, and the underlying concept of Easy Street, can be analyzed from a Social Role Valorization (SRV) perspective, in light of the overall goal of greater access to the 'good things of life,' the concept of societally valued roles, image enhancement and competency enhancement, SRV concepts such as the culturally valued analog and model coherency, etc. The PASSING tool and specific ratings could also be helpful in analyzing Easy Street.
Tweet
The Sunday NY Times (4 May 2014) included an article entitled 'Heroin's new hometown: On Staten Island, rising tide of heroin takes hold.' It is a sad and difficult article about the awful effects of addiction on: those who are addicted, their family and friends, as well as their particular communities and society overall.  It is worth studying from a Social Role Valorization (SRV) perspective on many levels, including in relation to the responses from human service agencies as described in the article.
One quote has relevance to the theme of imagery  in Social Role Valorization, in particular the elements of service setting location and activity:
"Some parents have taken to sending their children for treatment in Brooklyn, in part to avoid the glare of those who would recognize them at facilities on Staten Island."Tweet
This 2014 op ed in the NY Times relates to the Social Role Valorization (SRV) theme of competency enhancement, in this case, as related to the role of student. It examines ways that group size (class size) can enhance student competencies and provide greater access to the good things of life, including access to higher education. Note also a possible link to PASSING, such as the rating:
R2211 Competency-related intra-service recipient grouping–size
http://www.nytimes.com/2014/10/18/opinion/small-schools-work-in-new-york.html?smid=nytcore-iphone-share&smprod=nytcore-iphone&_r=1Tweet
One of the clarifications offered in introductory Social Role Valorization workshops and texts is the distinction between the role of server (whether paid or voluntary) and the valued social role of friend. Servers may indeed be friendly to the people they serve, but as long as they are in the role of server, they are not friend. We know what friendship entails. Many people who are societally devalued, and who have been isolated and perhaps cut off from freely-given relationships, may indeed be lonely and hungry for relationship. This real need does not however justify distorting and conflating the role of server and the role of friend.
With this in mind, consider two recent articles in the 26 April 2020 New York Times. One article, entitled 'Be a friend to the elderly and get paid,' describes:
"Papa, a health tech company that provides 'grandkids on demand' … Founded in 2018, Papa pairs older adults with college students and young workers who have common interests and hobbies … the Papa pals … make between $11 and $14 an hour, not including tips and covered expenses like gas, on a freelance basis. (Papa is currently available in 20 states; the company typically charges clients $20 to $25 an hour.)"
Whatever needs for relationship and companionship that vulnerable elders may have, Papa pals are not friends with the elders with whom they are matched. It is rather, in the words of the article, a 'friendship business.' The language of client and the discussion of pay rates, makes this evident.
Compare this with another article in the same edition of the newspaper, this one entitled 'Still lives: Visual diaries from 15 photographers give a glimpse of life in a time of isolation,' a series of photographs and text.
One of the diary entries is by Michelle Agins. When the pandemic hit the US, Agins left New York City to stay with the mother of a neighbor. The mother, Florence Patterson, who is 84 years old, lives in rural upstate New York, near the Canadian border. Patterson is offering hospitality and sanctuary to Michelle Agins. Patterson is described in the article in role terms, as "a retired executive, former real estate broker, a humanitarian and an activist." Patterson is providing help to Agins, and is also receiving help. This speaks to the mutual role of friend. As Agins notes, "I'm grateful to be here with Ms. Florence." Florence Patterson is receiving some of the very same kinds of help as the elders described in the previous article about the health tech company, but the roles and relationships are fundamentally different.
Tweet
The 5 April 2020 edition of the NY Times included an obituary notice for Harriet Glickman. From the article:
"Ms. Glickman was a former schoolteacher in California when the Rev. Dr. Martin Luther King Jr. was assassinated in 1968, shocking the nation and heightening her concern about what she saw as toxic racism that permeated society. She began thinking of ways the mass media shaped the unconscious biases of America's children, she later wrote, and "felt that something could be done through our comic strips." She wrote to several cartoonists, including Mr. Schulz, urging them to add black characters to their strips. At the time "Peanuts," which had been appearing since 1950, was syndicated in about 1,000 newspapers and reached tens of millions of readers, according to Benjamin L. Clark, the curator at the Charles M. Schulz Museum in Santa Rosa, Calif."
"On July 31, 1968, Franklin Armstrong appeared in "Peanuts" for the first time, returning a beach ball Charlie Brown had lost in the ocean and then helping him build a sand castle. Nothing aside from the color of his skin set him apart from the other children in the strip."
This is an interesting example to reflect on in light of Social Role Valorization (SRV). More specifically, Wolfensberger identifies four categories of action implications related to SRV (SRV monograph, 2004, pp. 78-80). These actions include efforts primarily to enhance social images on the larger societal level.
See this online article which includes the first cartoon including Franklin Armstrong.
Tweet
A 3 July 2019 article in the NY Times Magazine entitled 'Digital Jail: How Electronic Monitoring Drives Defendants Into Debt' by Ava Kaufman compellingly illustrates the concepts of heightened vulnerability, and of non-programmatic factors, as described in Social Role Valorization (SRV). Note also the example of a private for-profit human service organization.
From the article:
"On Oct. 12, 2018, Daehaun White walked free, or so he thought … The lanky 19-year-old had been sitting for almost a month in St. Louis's Medium Security Institution, a city jail known as the Workhouse, after being pulled over for driving some friends around in a stolen Chevy Cavalier. When the police charged him with … driving a car without its owner's consent — and held him overnight, he assumed he would be released by morning. … He had no previous convictions. But the $1,500 he needed for the bond was far beyond what he or his family could afford. It wasn't until his public defender, Erika Wurst, persuaded the judge to lower the amount to $500 cash, and a nonprofit fund, the Bail Project, paid it for him, that he was able to leave the notoriously grim jail … When he finally read Wurst's letter, however, he realized there was a catch. Even though Wurst had argued against it, the judge … had ordered him to wear an ankle monitor that would track his location at every moment using GPS. For as long as he would wear it, he would be required to pay $10 a day to a private company, Eastern Missouri Alternative Sentencing Services, or Emass. Just to get the monitor attached, he would have to report to Emass and pay $300 up front — enough to cover the first 25 days, plus a $50 installation fee … In recent years, politicians on both sides of the aisle have joined criminal-justice reformers in recognizing mass incarceration as both a moral outrage and a fiscal sinkhole. As ankle bracelets have become compact and cost-effective, legislators have embraced them as an enlightened alternative. More than 125,000 people in the criminal-justice system were supervised with monitors in 2015, compared with just 53,000 people in 2005 … It costs St. Louis roughly $90 a day to detain a person awaiting trial in the Workhouse, where in 2017 the average stay was 291 days. When individuals pay Emass $10 a day for their own supervision, it costs the city nothing … White assumed that GPS supervision would prove a minor annoyance. Instead, it was a constant burden. The box was bulky and the size of a fist, so he couldn't hide it under his jeans … The biggest problem was finding work. Confident and outgoing, White had never struggled to land jobs; after dropping out of high school in his junior year, he flipped burgers at McDonald's and Steak 'n Shake. To pay for the monitor, he applied to be a custodian at Julia Davis Library, a cashier at Home Depot, a clerk at Menards. The conversation at Home Depot had gone especially well, White thought, until the interviewer casually asked what was on his leg … In 2011, the National Institute of Justice surveyed 5,000 people on electronic monitors and found that 22 percent said they had been fired or asked to leave a job because of the device."
Tweet
The NY Times published a book review of 'Damnation Island: Poor, Sick, Mad and Criminal in 19th Century New York' by Stacy Horn.
https://www.nytimes.com/2018/06/28/books/review/damnation-island-stacy-horn.html
The review is worth reading and has lots of SRV lessons that would be worth reading and discussing (e.g., as part of an SRV discussion group).
The island was called Blackwell's in the 18th century, after a family living on the island, then later Welfare Island (in the 20th century), and today has been renamed Roosevelt Island.
According to the review, this two mile island in the East River was the site of the New York City Lunatic Asylum, a smallpox hospital, and a penitentiary. Eventually, two additional island (Randall's, Wards) also become the sites of institutions.
http://www.asylumprojects.org/index.php/Blackwell%27s_Island_Asylum
http://www.correctionhistory.org/html/chronicl/nycdoc/html/blakwel1.html
The famous 19th century reporter Nellie Bly pretended insanity in order to be sent to the asylum on Blackwell's, and then wrote an expose for a New York newspaper.
http://digital.library.upenn.edu/women/bly/madhouse/madhouse.html
Note the segregation and congregation of unwanted peoples out of New York City, and onto islands away from the local populations of societally valued people.
http://www.dailymail.co.uk/news/article-2177073/Welfare-Island-Black-white-photos-1940s-use-New-York-City-island.html
The reviewer points out some of the language used to describe the buildings and programs, such as 'lodge' and 'retreat;' which may be examples of detoxifying language. The name changes from Blackwell's to Welfare, and from Welfare to Roosevelt, are also instructive from an SRV perspective.
Much more to explore from an SRV perspective, such as poverty and impoverishment, rejection, and death making. Nellie Bly's work might be seen in part as an example of trying to foster interpersonal identification. According to the review, it involved governmental efforts to make structural change, and so on.Tweet